Campsite Sconser was excellent, right under a mountain that funneled the wind from both sides across a flat golf course and directly at my tent. What numpty pitched here?
To add to my woes I had a cold nights sleep with weird dreams fuelled by late night cheese intake. Another lesson that should have been learned a long time ago.
Each passing squall that came down off the mountains blasted the tent. Guy ropes popped free, pegs got lost in the deep grass and I hunkered down inside my tent waiting for the weather to clear a bit.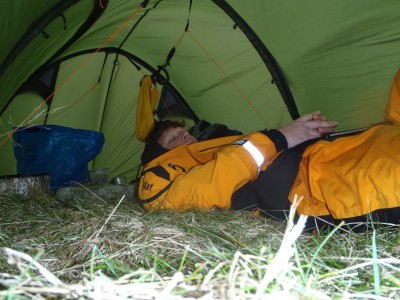 The tide went out of the wide shallow beach further and further. Eventually at low tide I was still hiding, now with my dry suit on, inside the shell of the tent with all my kit packed and ready to go. I can do this slick I kept telling myself. (I am notoriously slow at breaking camp and packing boat).
It was very very late when I saw a sunny break in the weather and went for it. Lumping the boat down across awkward boulders and seaweed with the wind trying to knock me off balance. I left it on a higher patch of sand conscious of the incoming tide.
Back up the beach grab the first load, back over boulders blah blah blah. I'd got the tent outer down, with much cursing at the snagging of the poles (always happens when in hurry eh?) but I could see that the water was almost at my boat. By the time I crossed the beach and got hatches on, split paddles on and bum in seat I was almost afloat. One man's near miss is another man's perfect timing.
I was off and crossing today's Westerly toward the wee narrows at the bottom of the sound of Raasay.
A few days ago a friend asked me to say hello to Skye for them, which I dutifully did. Today it answered back. I paddled towards the rocks at the wee headland that juts out to form the narrows and a voice from the rocks said 'Hello'.
What the who the bloody where?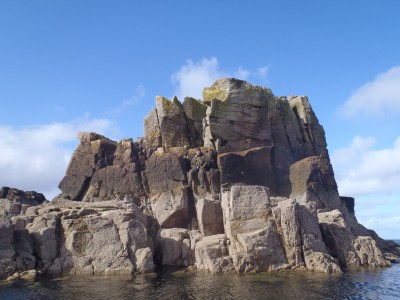 This man, called Perry incidentally, was perched on a throne of rock, top to toe in effective camouflage gear spotting all the wildlife. He was an interesting guy, another one of life's livers. He splits his time between what he needs to do and what he wants to do, which is sit on his stoney seat watching the wildlife doing what it does.
He knows his onions as well, he told me that I should keep my eyes peeled a wee bit up the coast and to keep my camera handy for the that elusive photo of a sea eagle that I missed on Mull. And you know what…..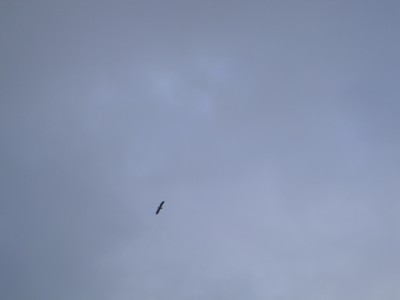 After this I was treated to a couple of nice caves and a beautiful rainbow. All in all a good end to what had been a poorly started day.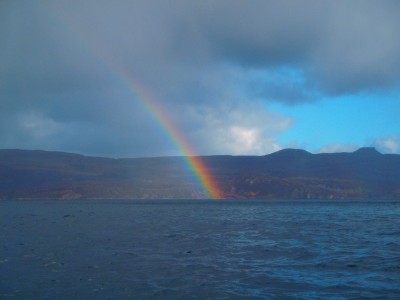 I guess somethings are just meant to be the way they are meant to be. Whether good or bad, its just the way it goes.