When I was in Carsaig Bay I found the locals very, very welcoming. I walked across to the Hotel in Tayvallich on the Friday night to be entertained by the locals with their accordians, guitars, small pipes, bodhrans, flutes and whistles. It was brilliant, and several of them also donated to the fundraising and have rightly been added to my Santa Claus list for nice people.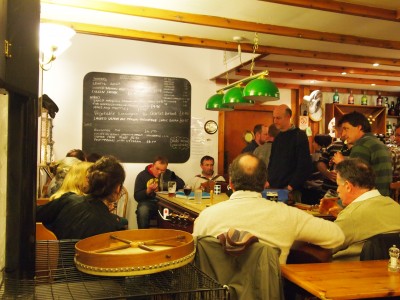 The following morning as I was packing up my camp and getting ready to head out I met one of my entertainers from the previous night. Hans Uncles came down from his house and kindly took my rubbish, filled my water bottles and helped me get launched. Hans ploughs the local waters for his living and we had an interesting discussion (before the folk session) on the local tides and their behaviour, but that wasn't a patch on the story of his name.
Hans is someone I'd consider a kindred spirit, light-hearted and jovial, so when he told me his name I laughed right back at him and said 'you're taking the piss'. I was wrong but Hans' reaction was calm suggesting he'd been through this more than once and wasn't offended in the slightest. On Saturday morning when Hans was chatting to me on the beach in Carsaig Bay I asked him for the story of his name was and it's a belter. It's now a family name of which he is the 3rd recipient. His father was the 2nd recipient and they owe the name to the conduct of our Hans' Grandfather who bore the name as a nickname locally, after he ran away on a Dutch Fishing Boat! He obviously liked it, because its stuck for a century.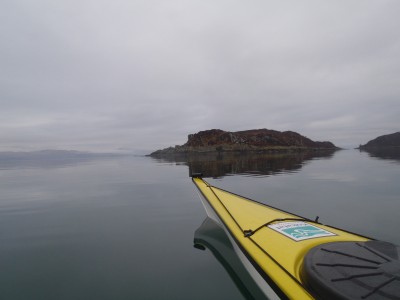 So I left my new pal Hans and paddled off into a very still Sound of Jura. Visibility was still very limited, but the low cloud had lifted enough to show me a band of the Jura coast splitting the constant canvas of grey above and below it. I headed out into the sound a kilometre or so from shore and and paddled North for the Eileans that split the tidal flow and form the tidal scoosh that is the Dorus Mor 'The Great Door'.
As I approached the Eileans I had an overwhelming need and decided to wheech in behind Eilean na h-Eairne for a quick break. I eddy-hopped up the rest of the Eileans then in behind Garbh Reisa and into the flow. The tide was only building but I was off and flying.
I went with it for a wee bit and then aimed myself up into the Sound of Luing while I watched the grey Gulf of Corryvreckan to my West. You get used to the additional speed from the tidal flow and when it receeds slightly you realise how slow a kayak really is.
It wasn't long before my speed was picking up again and as I travelled up past Bealach a Choin Ghlais, the Grey Dogs, I could see the white crests of the waves in there tempting me. Again, those were for another day as I was bound for Oban. By the time I reached the top of the Sound of Luing I was flying. I shot through between Fladda and Dubh Sgeir (Black Skerrie) just as a powerboat called Orca came through to give me a wee bit of wash to contend with as well, mind you I am pretty sure he'd throttled down considerably for my benefit.
After that excitement it all seemed like a bit of slog across to Easdale and round up inside Insh. The sky went very moody, a whole different experience of the winter grey and the cliffs round the back of Seil loomed above me as the barren lumps of rock that they are.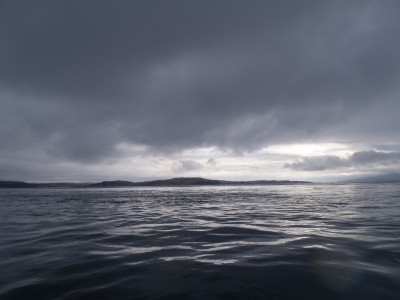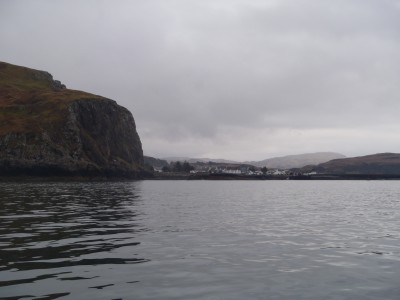 I was disappointed that I couldn't see the Isle of Mull a mere 6km away. The paddling in this part of Scotland is best not because of the complex and fast tides, though they are sporting and fun, but the views that you can be treated to. So far those views have been few and far between.
Even Kerrera on approach to Oban only became 'visible' as a grey hulk at about 4km distant. Very disappointing.
I could almost hear Kerrera before I could see it. How can you hear an Island? Well if the folk on it have a whole bunch of loud Parrots then you can hear an island. I'd made it into the Sound of Kerrera before the tide turned against me and kept thinking I could hear something else in amongst the squawking squabbling and shrieking but it took me a while to discern the 'keep paddling Bruce' from the cacophony of the Parrots.
I had been found by my friends that live in Oban, my only scheduled stop with a bed on the whole journey. Roger, Lyndsay and their daughters Edie and Alex were on the shore cheering me on. Magic, a warm bed and some home cooked food. I got here before I thought I would, which meant my Jilly and our daughter Miriam hadn't even got here for my halfway family time '1' day break. They weren't far away and it was lovely to see them, even if it had only been 6 days since I left Largs. Amazingly good progress, but it was all about to go thoroughly wrong.