Today was full of surprises. The first one was that I hadn't set my alarm and I woke up very very late. It was so late by the time I got on the water that (as I found out much later on) some people thought I was having a day off.
The reason I slept so well was that I have a very good wee tent, I've packed a combo of 2 and 3 season down sleeping bags and I was pitched on the best camp site ever. It was flatter than the medieval perception of the world we live in.
It also had no camping signs nearby that I hadn't at first noticed, though that may be because they are placed with landlubbers and not seafarers in mind.
When I did get on the water the wind was exactly as it had been when I got off the water 21.5 hours earlier, which did not tickle me pink. Then i got my first real surprise of the day. Ahead of me, maybe a 100 or so metres, I spied a few fins arching out of the water. I never thought I'd catch up with the dolphins what with them being highly evolved creatures of the sea and me being primate in a lump of carbon and glass. My next surprise was that I caught them, but I think they let me.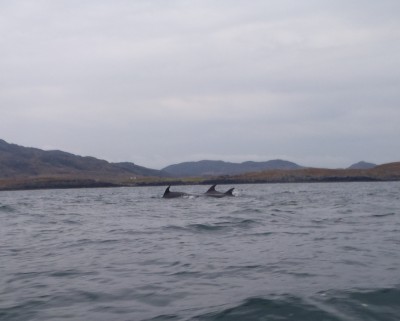 The dolphins allowed me the pleasure of their company for the next half hour coming ever closer, almost within touching distance. I was spellbound by these graceful creatures. I can only wonder what they thought of me, probably something along the lines of, 'check out the crazy guy in the yellow stuff, doesn't he look odd?'.
After my new friends departed I was surprised by the out and out striking beauty of the cliffs that I was passing alongside. There were caverns that 'boomed' out as the swelling sea filled and withdrew from their lengthy reaches. Eroded gullies with piles of scree between the cliffs and intricate rough jetties of rock that speared the surface of the sea came and went next to me. After a couple of hours of this I reached the headland at Rubha Aird Druiminich. The coastline and the dolphins had been so bewitching that I had failed to notice the Easterly fading from my face. It was time to head North.
I took a bearing on the western tip of Arisaig and paddled out across the water leaving Ardnamurchan's magical coast behind me. The sea was now calm, aside from the odd breaking top where shallow skerries were only just covered by the gentle swell from west. After another couple of hours or so I arrived at the Arisaig skerries which were a mix of turqouise and darker inky sea with colonies of common seals lounging out in the now warm sunshine. This was my next treat in a day full of them. Maybe spring is trying to extend it's grasp North.
I wound my way through this maze of rock water and seaweed and headed out further North toward the beach at Camas An Daraich where I beached and got my final surprise for the day. After more camping than you can shake a big sodden tent peg at there were now three beds on offer within a 5 km stretch of coastline. No competition for the winner though, my Aunt Pat was here to pick me up and take me a couple of clicks up the road to where my Uncle Jimmy and a plate of baked salmon, tatties and peas were waiting to be wolfed down. A good end to the day.