0950 Hours: Meet Tony in car park at Largs Marina. Talk mince.
1000 Hours, Decide there's more wind than forecast, check Met Office Inshore Waters.
1005 Hours, Forecast South East Force 5-7, decreasing later 4-5.
1020 Hours, Paddling. New plan; go round top of Cumbrae, see what's happening.
1030 Hours, past Tormont end, Cumbrae. Fast progress.
6 hours later, finish grand total of not even 16 miles. What happened there?
Many years ago I was told there was no tide in the Clyde. To be fair there is not usually much in the way of tidal effect in our bit of the Clyde. Maybe a knot or so in the Tan but nothing noticeable elsewhere. Until the day you rightly decide to abort the original plan (lunch at Dunagoil on Bute) because it is howling. So we'd suck it and see.
Our new plan was up there, in the league of well thought out plans, with Dr Raymond Stantz in Ghostbusters 'Get her'. After cruising over to the North of Cumbrae with a favourable wind and a wee bit of tidal push we then had a journey down the West side of Cumbrae with the SE wind on our beams in a bit of shelter.
Our in depth plan was now to lunch at the Wee Cumbrae Lighthouse. The short crossing to Wee Cumbrae was our first real push into the wind. After this burst of effort our tidal ignorance became apparent . We arrived at the lighthouse to discover the breakwater had water breaking over it due to an exceptionally high tide.
I decided to attempt hopping out my boat and jumping onto the wall. Instead I tested my new dry suit again, it works well, I barely even got water in my wellies. Numpty.
After lunch we continued round the south end of Wee Cumbrae, into a stiff wind and some nice big waves.
Then we got round the south and had the pleasure of running with the waves for a wee bit next to the shore, and the rocks. Very sporting 😉
Up the East side of Wee Cumbrae I had an epiphany. I worked out what the best thing about paddling in Scotland was.
Then we crossed the Tan heading North, which turned out to be interesting again. There was wind, there was a wee bit of tide and then once we got over to Farland Point on great Cumbrae we noticed a patch in the water East of us in the channel that had crashing waves, this looked very much like wind against tide. In the Clyde! We paddle out to it for a wee explore and right enough it was the messy effects of wind and water going in two opposite directions.
From here to the Keppel Pier and beyond we were slogging again. The tidal effect probably amounted to a knot and a half heading south with no eddy against the coast. It was like paddling through treacle. It's hard to tell how long it took us to cover this, because I still haven't got a replacement for my adventure watch that 'died' on the orchy at a dizzy three years old.
Hindsight is a wonderful thing. If your plan is to suck it and see, make sure you realise you are paddling during one of the biggest spring tides of the year. Don't time it so that you paddle into the tide till high water and then into it all the way home again.
Otherwise, you see and it sucks! Well it didn't really suck at all, it was a great day.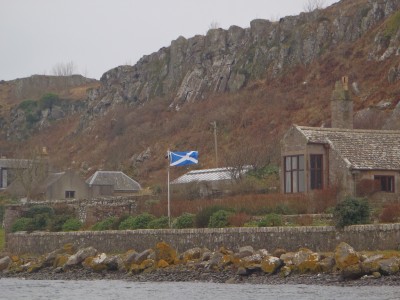 After all we were paddling in Scotland.
There's not long to go now and I have many matters needing addressed so this is probably the last 'training' update we'll have. The next time I'm out there, I'll probably be heading out there.
ps more raw footage at http://www.youtube.com/user/jolliffegreengiant