It's taken me a couple of days to get this footage trimmed and sorted out online. I guess I'm still learning the tech thing.
It was the 23rd January, with a 3.3m tidal difference at the Falls of Lora, under Connel Bridge, nr Oban.
I went with one of my whitewater students who's always game for a soaking. Here's Dan about to get one of his first ever rides on the main wave.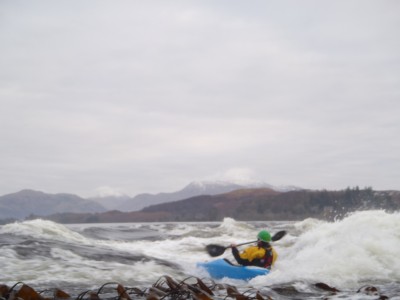 It's hard to predict how good the wave will be but I'd always intended paddling my sea kayak. I got a few good rides and runs on the wave train.
I also took a couple of proper rinsings and the camera even got knocked down (which is no mean feat). Watch the world at 19secs in this one (below), see if you can spot what's happening.
By the time we got about half-way through the session the main wave was forming very nicely. I'll hold my hands up here, I ditched the sea kayak, grabbed my flat hulled piece of plastic and got me some nice surfs and a couple of wee blunts.
Yes we went playboating with a VHF radio – now that is not normal!