This morning at 10am I was afloat, at 10.03 I was paddling (after I sorted out my mp3 player). I took a map with me to pay attention to bearings and times but to be honest I didn't really bother.
The weather was a change from the past two weeks of below freezing, it was a balmy 3 degrees Celsius and it even rained!
At 11.00am – the clouds came in and I couldn't see much of Rothesay. I toyed with the idea of turning tail and playing it safe but a few minutes later the mist rose back up the hills a bit inviting me to continue.
By 12.00am I was past the Bogany Point port buoy, so I thought I'd call up a friend that lives round on Kames Bay then I discovered you need a phone to make a phone call. 2 hours over the water from home, with no phone….safety fifth!
12.40 – banana and hot juice. I'd barely taken a bite when a search and rescue helicopter overhead alerted me to a beautiful winter rainbow over on the Cowal peninsula.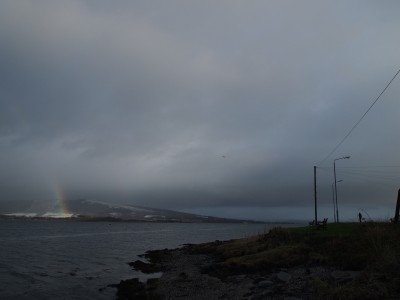 When I was trying to photograph the rainbow I met a man named Norrie Mulholland, he's 70 and in the last decade he has nearly walked the equivalent distance of the circumference of the earth from pole to pole and back. He's done 22,000 miles of the 24,860 miles it would be round. Not bad at all! He also knows a fair bit about the local wildlife . Meeting interesting folk is one of the best things about getting out and doing stuff.
13.20 Ardbeg Point, heading home.
14.20 I was having words with myself about how mental it is to make yourself do this crossing twice in one day.
14.21 I moved on to the total stupidity of taking sponsorship money for a journey to Stornoway with far bigger crossings than this.
14.22 ACDC Jailbreak in my earphones and a small golden break in the clouds, everything's peachy!
15.25 Back at the old sailing club slipway at the bottom of John Street in Largs. I need some more food.

View Bute Training in a larger map
20 Miles in under 5 and a half hours including a light lunch.
2 x 10 miles open crossings in one day, fuelled by small bowl of oaty o's, 2 satsumas and a banana.
Good training – glad I'm taking a couple of days off though.