It was the final day, the weather was forecast as a SW F5, decreasing 3-4 later. Ideal. This was not my information, this was the information I got from Mark Stokes my late night GPS stalker from the Stornoway Canoe Club. When Mark swung by my tent last night I was quite emphatic that he should join me for my last days paddle. I'd not paddled with anyone for a lot of days, let me think……. na na na na nineteen to be precise.
I had plenty of food including potatoes left over so I knocked up a wee hearty breakfast of rosti, bacon and eggs while I broke camp. Mark paddled over from Lemreway's slip and joined me at Campsite Carcass as I've dubbed this one.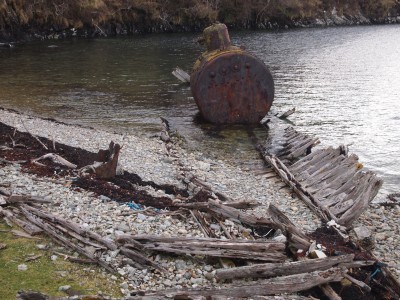 The carcass was the remains of an old boat, its spine was the hull with its ribs a mix of wood and concrete ballast. The boats boiler stood proud showing that this was a once mighty craft now abandoned to the slow erosion of the sea. I'd love to find out what this boat was called and what it did, so if anyone finds out please let me know.
Mark and I left Lemreway and headed out and round Eilean Liubhaird at an undiagnosed time. I don't know what the time was, I was too busy enjoying the company. It beats talking to yourself, which is something 'we've' become very good at. I didn't even do a final Stornoway Coastguard call, which was a bit naughty.
We paddled headfirst into a blowy silvery sea and kept going south for a good while till we both exchanged excited nods and I offered up one of my eternally adolescent comments (these always surface when I am in a kayak). It was 'lets ride these bad boys'. What a total fandango.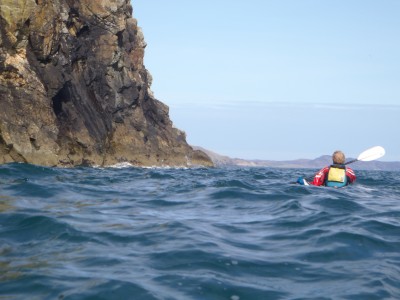 So we rode them bad boys all the way, I was insistent on trying to get as close to the shore at each headland, maybe to get a thrill, maybe to just try and take my chances one last time.
After a wee while the sea seemed to calm right down. The wind had died and we just cruised under the Lewisian cliffs, enjoying the grandeur. Mark seemed to have a freshness and a power in his paddling that I was only just managing to keep up with. No complaints though, the company was good fun.
One noticeable thing along this stretch of coast is the ability of the sea lochs to funnel the wind right out onto your beam. This was feeling harder than the glorious final day was meant to be, but it would only be while crossing these latitudinal clefts, wouldn't it?
We paddled past Calbost where Mark pointed out a house he'd been interested but couldn't get. It looked like a nice spot in the trees with a generous helping of southern aspect for warmth. The villages here are tiny and hidden in amongst a never ending maze of lochs of both fresh and salt water. I guess thats why the call it South Lochs.
I suggested to Mark that we take a break and he replied that there were a couple of nice beaches up ahead. Nice? We pulled up onto a beach that had an adhoc bench created from some driftwood planks propped up on a natural shelf with some additional boulders to level it. The seat faced south into the now warm spring sunshine, this was a seat you could spend a day in. I think we spent an hour. Aside from my break on the Shiants which, although warm was enforced by the necessity of tidal planning and timing, this break was probably the longest mid-paddle break I'd taken in the last three weeks. I didn't need to keep moving, it wasn't freaking freezing no more. Warm sunshine is good!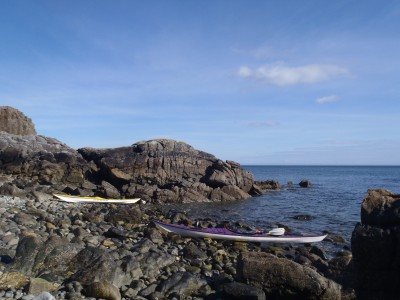 All I had to do now was get on the water and paddle for the last couple of hours up to Stornoway. We paddled out and across Loch Eireasort, the forecast wind, the decreasing 3-4 must have veered to the west. It was fully on our beams and it had a full 10 or more km to get itself going down the loch.
I found myself getting annoyed when the third cold drip in as many minutes found its way into my ear. Truth be told it was an indication of my slow and unavoidable deterioration from the fighter of this past few weeks into a limping weary man who was drained. The sight of the lighthouse that stands over Stornoway harbour was all my body needed to rebel against the constant pushing of my mind to just keep going. Now I could feel the ache in my muscles, the general fatigue throughout myself. I pictured a conversation between my body and my brain.
Mind – Just keep going.
Body – Yeah but I hurt all over.
Mind – Just keep going.
Body – You just bog off up there in your ivory tower, I am in more pain than you can possibly appreciate, I've hauled and twisted and lifted and pushed this last three weeks and all you've done is say, do more, so here, feel this pain you lazy grey lump.
As we got closer to Stornoway harbour it just got worse. Mark reckoned we'd been fighting the end of the tide, which was quite possible. I don't think I'd have found it any easier though. But as done as I was when we paddled into the harbour I felt relieved. We had a quick 2 minute stop in behind the kelp before pushing over to the west side and its shelter under the gardens on the short cliffs. The last 200 metres of paddling into the wind was almost like an out of body experience. Technically I'd like to think I have never forward paddled so correctly. All rotation, all catch, push on the foot, pull on the blade and release. Then again, i have been practising a fair bit in recent weeks!
We cruised in the warm sheltered afternoon sun on a mirror calm pool along to the slipway under Stornoway Canoe Club's boat shed. The tide was out so far that the end of the slip was a foot above the water. I stood up. We lifted the boats out the water.
I got out my dry suit, draped it over my boat and sat down in my much talked about brown suit. I don't care what anyone says, this all in one Kokatat Polartec Power Stretch brown suit may not be seen in a collection by anyone other than the most daring designers of haute couture, but it has kept me warm through the last 22 days of winter. It has, to be fair, made me sweat during the first two days of spring, but that is not to detract from its awesomeness.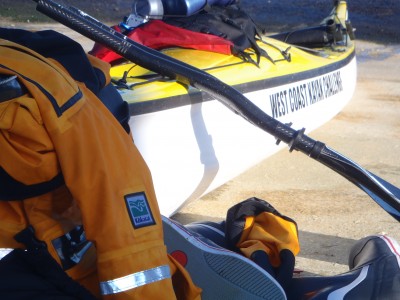 I lay on the slip a happy but weary man in a poo brown suit. I looked at the one man craft made from modern materials to an ancient design that had carried me the 313 planned miles from my hometown of Largs to my late pal's hometown in the Outer Hebrides. I remembered the conversations with those of a nautical leaning that asked me if I'd heard of equinoctal tides and gales. I considered the wisdom of those that questioned why I did it in March.
For many reasons, March picked me. My head drifted, 'We' had done it.
We planned each charted course, each careful step along the byway.
And more, much more than this, We did it our way.
Right Frank, Sing it!