South or South-West Force 5-7, decreasing 4 the Met-Office said. Thats sounds do-able if you are heading north. So out of Portree, turn left and go with the flow. Woooooof!
It was the rocketman all over again, I watched the coast fly by, or so it seemed. The waves weren't too big, but the energy was in them, use it, pick them up and shoot along. I was glad I picked my big blades again today, it's definitely easier to catch that energy when you've got a shovel to dig with rather than a trowel.
The coastline lent itself to the conditions on offer, it probably took the edge of the force of the wind but gave enough wee squalls to keep boosting the waves in my direction. I like running with the weather, its so much more satisfying than fighting it.
I hadn't planned any breaks either, I just sort of got on and went till I needed to find a spot. My first wee break was a cracker. A waterfall, well a combination of a fall and slab slide came in off the cliff and onto ledge of harder rocks that formed a pool just above the high tide mark before running off in a couple of directions to find their way to the sea.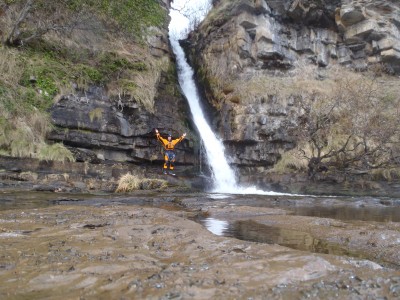 This was a very natural place to take a break. I wished it had been summer, it would have been a nice pace to take a dip, get the salt off and relax but I didn't have to remind myself that it was March, I only had to touch the cascade to feel that this was no bathing spot, not this time of year anyway.
A little further up the coast, after passing cliffs and arches I pulled in out the wind, I was starting to feel a little tired from ruddering and correcting my posture. Its hard to stop yourself from leaning back and 'body bracing' when surfing the waves, but using the core and crunching forward is more effective, but tires the frame in its own way.
It was here, just past the point of the 'brethren' as it translates from Gaelic I think, that I met Kristina and Jakub, a young Czech couple who were enjoying their last week in Scotland before heading home. I don't think they expected to meet a kayaker, let alone one who tried to engage in a poor form of pigeon Czech with them. I spent a bit of time in a previous life in Prague and tried to remember those little bits of polite conversation while I spoke with them. One thing was clear, my previously bad grasp of the Czech language has not improved.
After this I continued up to the big waterfall just before Kilt rock. Now here is a sight, a waterfall that turns to mist before it hits the ground, not because of its vertical drop, but because of the horizontal blast of the wind that wants to take it a lot further North.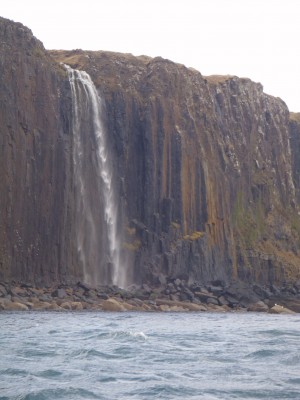 My brother was perched high on the cliff at a viewpoint trying to get some snaps of me. He'd driven through from Aberdeen to Skye just to catch a glimpse of little old me with his camera. Say what you like about families, but they really do sometimes go that we bit extra for you.
As I passed the coast the wind just got stronger and stronger, this was not decreasing to a 4, this was ramping it up and up. Every squall felt more serious and it wasn't fatigue, it was now blowing a hoolie. When I got to the slip just before Staffin Bay I spotted a wee red car with a paddlers roof rack on it, my Skye pal Janice had appeared to suggest a safe place to stash the boat, and not a moment too soon, the wind was now getting bonkers. Time to escape. It seems to me that the closer I get to the Minch, the further it feels like I am from being able to do it. The forecasts and the visible weather just don't suggest a crossing anytime soon. Oh dear.
Decreasing 4? That was the stiffest 4 I've ever paddled through in my life. I must be getting really tired.